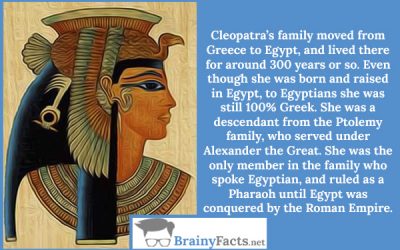 Cleopatra's family moved from Greece to Egypt and lived there for around 300 years or so. Even though she was born and raised in Egypt, to Egyptians she was still 100% Greek. She was a descendant of the Ptolemy family, who served under Alexander the Great. She was the...
The World's Oldest Dress was found in Egypt and it is 5,000 years old. Fact source...
Discover more…
BrainyFacts Site is an ever-growing knowledge base for all the world's most random and interesting facts. We have thousands of facts about nearly anything you could think of…
Browse facts by categories
Signup Today For Instant Access
Join today and get access to Divi, as well as our other countless themes and plugins.